Info: USB Tester 2.0
Purchase: Tindie or FriedCircuits.us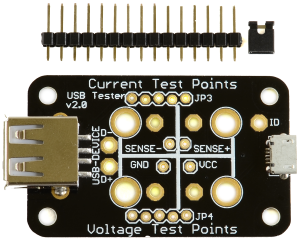 Included Parts:
1x PCB
16pin Male Header
1 2pin Jumper
The assembly is similar to the VA Tester, except only one pin to remove. Having the voltage pins being separated allows easy use of test clips and stops accidental placement of the jumper.
1. Cut apart the headers pins in the follow arrangement.

1x – 2pin
2x – 5pin
1x 3pin

2. Using pliers remove the center pin for the 3pin set.

 

3. Insert each header in and flip over. You may want to put cardboard underneath as the pins get hot and can melt anything you are resting the USB Tester on.

4. Solder 1 pin from each header. Flip over check each header that it is flush and straight to your liking.

 

6. Flip back over and solder the rest of the headers.

7. Now you are set. When not measuring current use the jumper on the 2pin header.
Check out the backpack assembly here: http://learn.friedcircuits.us/usb-tester-oled-backpack-2-0-assembly/